READ THIS ONLY IF…
You're ready to have ultimate control over your own time.
You want freedom to spend more time with your loved ones.
You're eager to make what you are worth.
You're passionate about making a difference in people's lives.
You love people and having a ton of fun.
You're thinking of someone close to you who fits any of the above
We can't make it any easier!You really CAN start making lots of money right away.
Potential earnings of 5 figures a month
No presentations, no pressure and no selling
Complete party funding provided by GlitterBug
Set your own schedule
Learn as you go – no experience necessary
Full company training and support
Employment opportunities available nationwide
You CAN make a difference. It's fun AND rewarding.
Work with a company that cares!

The compensation is incredible!
Two plans to fit your needs.
Our party average is $3,500 in customer payouts PER PARTY!
Parties Per Month
Commission
14% – 19%
(YOU fund)
Commissions
10% – 15%
(WE fund)
16
$7,840
$5,600
12
$5,880
$4,200
8
$3,920
$2,800
4
$1,960
$1,400

As you explore starting your own GlitterBug gold buying business, you might be thinking "Is this for me?" "Can I really do this?" "Can I afford to make this investment?" We'll help you find answers to these questions. But as you explore this opportunity there are other, more important questions you should be asking yourself.
| | |
| --- | --- |
| | Why do you want to start your own business? |
| | Do you want just a little bit of extra income from a part time business to pay off debts or save money for a little fun and adventure? |
| | Do you want to step out on your own full time and be in control of your destiny? |
GlitterBug can be the vehicle to take you there!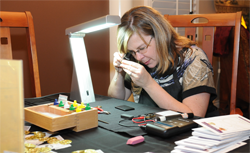 Our Gold Buyers and staff know how rewarding GlitterBug is, in so many ways. We all started our businesses for different reasons, but the outcome is a universally wonderful gift – having the freedom of being your own boss, and making a lot of money in the process!
We all find the time and money to do the things that are important to us. How important are YOU…to yourself? Where will you be a year from now? Will you be in the same spot or living a more fulfilling and satisfying life? So the final, most important question you have to ask yourself is not whether you can afford to make this investment in yourself… but whether you can afford NOT to. Life is too short to play small. Take action today and let us help you be in charge of your journey.

You Can Buy Gold In Just A Few Days!
How much will I make?
There is no limit, no cap. You'll make money on gold events, fundraisers and private appointments. The faster and smarter you work, the more money you'll make.
How much does it cost to get started?
Your Rapid Start System is $697, plus $75 for a criminal & credit background check (sales tax and shipping may be applicable). We'll even finance it for you! Start with only $250 down and three months to pay the balance. Use your commissions to fund your start up costs!
What is this 85% reimbursement all about?
We are so confident you will make money with your gold business that we will pay up to $650 BACK TO YOU when you complete our training program (you don't even have to buy any gold!), and do your first three (3) average sized events within two months of your one-day certification training.
How will I learn to do this?
We'll teach you everything you need to know. You'll attend a on-day gold certification training at either our Corporate Office or with a Regional Trainer. You will also have a Mentor who will guide you and provide support on an ongoing basis.
Who provides the money paid out to customers?
We have two plans:
Fund your own events and you'll earn the highest commission rates of 14% to 19%
We can provide complete funding and pay you a commission of 10% to 15%. You'll make money with our money!
How will I book events?
We'll teach you how to network, where to look, and even what to say. Remember, you're not selling and no one is asked to buy anything. Booking gold events is pretty simple. We even give you company generated leads after you've completed your training.
What's in it for the Host?
We pay the Host a 10% commission on all transactions – no cap, no limit. Our average Host earns about $350, but many of our Hosts have made thousands.
What if my credit isn't great?
Credit problems do not automatically disqualify you from our Training Program. There are hard working, honest people that have had some unfortunate financial struggles. We can help you get back on track.
I'm ready! How do I get started?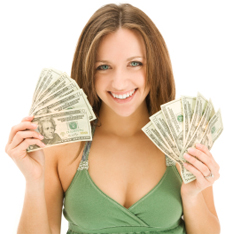 Just 3 simple steps…
1) Submit your application,
2) Determine your training date,
3) Get trained and start buying gold the very next day!